Click on one of the destinations above to open a website with more information.
For bookings or assistance call Cathy on 0418 862 260.
Best Deluxe Accommodation 2012
WE WON - Best Deluxe Accommodation 2012 to our Port Hughes Venue.
Rick and I are so thrilled with our win at the recent awards in Hobart!
We won Gold for our Deluxe Holiday home in Port Hughes.
We would like to thank all of our team who help to make it happen.

Emaroo Cottages has won numerous tourism awards for
excellence, innovation and deluxe accommodation.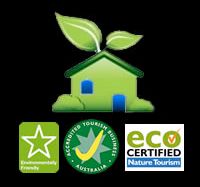 Emaroo Cottages - Eco Initiatives
We take our responsibility to the environment seriously, and have taken the following actions to ensure our accommodation venues are as eco-friendly as possible.